Grotte is a dedicated WooCommerce shopfront theme for who ever wants to add some sweetness and a bold memorable experience to their shopping sites. With the brand new "Buy For Me" feature, Grotte helps you to create a massive impression on your visitors and also improve your marketing strategy.

We care about not only shop and product pages, but also the pages like My Account, Checkout and Cart. You'll realize that all of those pages are crafted beautifully in order to give the look & feel better.
By the way, Grotte is completely responsive and works like a charm on any device.
A Brand New WooCommerce Feature: Buy For Me
You know the classic "Send to A Friend" button, right? Now take that button and turn it into a great sharing & marketing experience. That's what Grotte's "Buy For Me" feature does. This is a brand new WooCommerce feature developed by Burnhambox and launched by Grotte for the first time.
Instead of a basic e-mail which includes a link, your visitors can send the product itself to anyone with this feature. Here's how it works:
An e-mail preview window shows up when you click the "Buy For Me" button of a product. Here you see the product with the image, title and price. Now you choose a nice color scheme, write your message, prepare your button and send it to anyone. By the way, we're delicate enough to put an option for hiding the product price
Be quick, see it in action!
You Can Purchase "Buy For Me" Plugin Separately For Your Other WooCommerce Themes
Product Pages
Shop Pages
Grotte has 6 different layout options for shop pages.

WooCommerce Features
6 Shop Layouts
Grid/List View Options
Wishlist
Quick View
Enable/Disable Catalog Mode: If your items are not for sale, just enable the catalog mode. You can change the "Add to Cart" text too.
Set the Number of Products to Show per Page
A Brand New WooCommerce Feature: Buy For Me! You can enable/disable it anytime and also write anything instead of "Buy For Me".
Enable/Disable Magnifier on Product Detail
Enable/Disable Single Product Image: If you wish, you can use the same image for the single product image and its zoomed version.
Rollover to Zoom and Click for Larger Image: The best solution for displaying a product image on detail pages.
Show/Hide Sidebar on Product Detail Page
All Product Types are Supported: Simple, Variable, Grouped, External/Affiliate
Out of Stock Wishlist: "Out of Stock" products can be added to wishlist too.
Social Share
Elaborate Cart, Checkout and My Account Pages
Well Shaped WooCommerce Widgets
Shortcodes: You can place any image, product or product category with them. Very handy for homepage!
Demo Content Included
General Features
Mobile Friendly & Responsive Design
Super Light Structure and High Performance on Any Platform
Homepage Builder
Grotte Slider: Fullwidth and Cover options are available.
2 Header Views: Place your logo on the left or above the menu. More options to come!
Sticky Menu
Mega Menu
4 Menu Areas: Primary Menu, Header Menu, Page Menu and Footer Menu
3 Widget Areas: WooCommerce Sidebar, Blog Sidebar and Footer Widgets
Newsletter Subscription Bar
2, 3 and 4 Columns Options for Footer Widgets
Show/Hide Elements
Unlimited Color Options
Switching Messages at the Left Top Corner
2 Blog Layout Options
5 Post Formats: Standard, Gallery, Video, Aside and Link
Set Featured Image Width & Height
12 Custom Widgets
12 Carefully Selected Google Fonts
19 Social Accounts Available
Other Features
Google Maps
SEO Optimized
W3C Validated
Very Well Organized Customizer
Custom CSS Field
Translation via Customizer
Plugins
Here's a list of plugins those Grotte will be happy with:
Burnhambox – Grotte Shortcodes (Included)
New Grotte Slider (Included)
Customer Reviews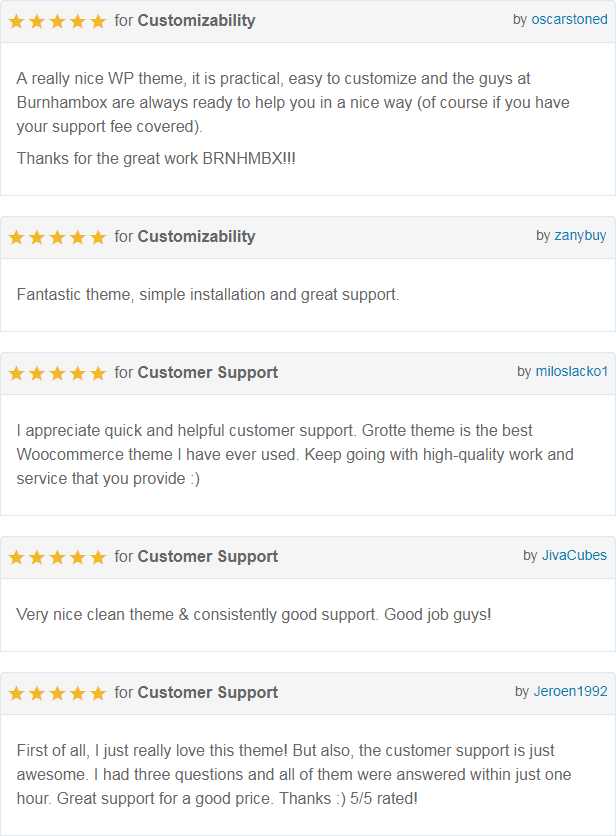 Need Support?
Please don't hesitate to ask anything. We're ready to help you on our comments page!
Release Notes
*** v.8.0.1 ***
+ Styling fixes.
+ Meta information fix.
+ Buy For Me product image size fix.
+ Buy For Me pop-up logo size option added.
+ Demo content files updated.

*** v.8.0.0 ***
+ WooCommerce 4.6.x update.
+ Various styling fixes.
+ Wishlist fix.
+ Breadcrumb fix.

Source